WHAT IS SCALP MICRO PIGMENTATION
At the Shadow Clinic we specialize in Scalp Micro Pigmentation (SMP). Scalp Micro Pigmentation is a highly detailed process where pigments are applied directly to the scalp to replicate the natural appearance of real hair follicles. Worn as a buzz, cropped or shaved hair style, to create what many are saying the most natural ,realistic solution for hair loss.
For sufferers of Male Pattern Baldness or Alopecia our Scalp Pigmentation treatment offers an effective cosmetic hair loss solution. Whether you are thinning , receding or completely bald we can give you the appearance of a full head of hair again.
The Shadow Clinic technique involves no surgery, no scarring, drug free and no wigs. Our treatment is immediate, giving you the appearance of a hairline within hours. When we say immediate this literally means you will walk out of the clinic after your very first treatment with a Hairline! With very little down time you can be back at work or out socialising hat free in no time.
Scalp Micropigmentation is suitable for all types and stages of hair-loss, on all ages, colours and skin types. Our treatment application is administered to thinning and bald areas, usually over 2-3 sessions spaced about a week apart. The process allows for a very gradual and subtle build-up of density and colour to match your existing hair. The illusion is so realistic and rarely identified even by close friends and family "You can actually believe you have hair and so does everyone else!"

WHAT CAN OUR TREATMENT DO FOR YOU?
Our treatment has helped thousands of men throughout Australia and New Zealand. Scalp Micropigmentation is an incredibly effective solution, restoring confidence and looks. It will help you to achieve a more youthful, modern appearance perfect for today's man. The Shadow Clinic Scalp Micro Pigmentation treatment can:
Create the appearance of a full head of hair
Recreate a natural, realistic, more youthful frontal hairline and side profiles
Camouflage the symptoms of all levels of alopecia
Camouflage previous hair transplant scars
Add density and to a hair transplant to provide a fuller look
Scalp Micropigmentation for Crown thinning/Balding: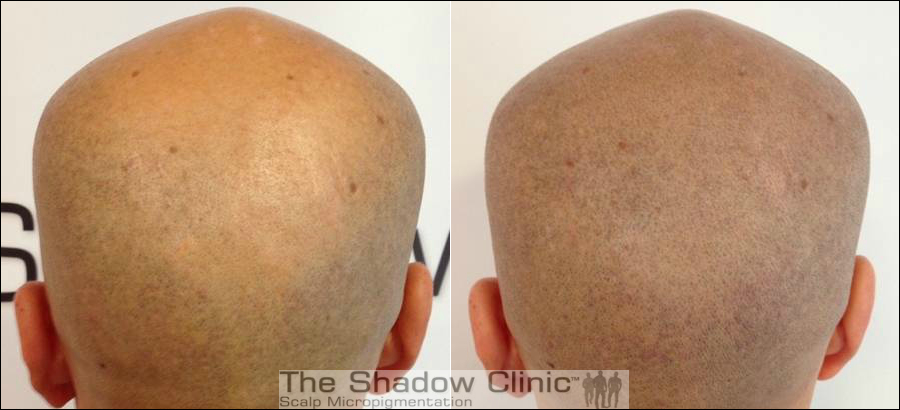 Crown thinning/balding is one of the most common types of balding, usually making sufferers look older and affecting self-confidence. Our revolutionary treatment allows us to mimic hair follicles in the hair loss area to build up the look of hair density and then with perfect blending into your exiting hair. Also providing the ease of top-up treatments should your hair loss
continue.
Scalp Micropigmentation for Receding Hairline:

Scalp Micro pigmentation is such a seamless technique that we can blend through your receded hairline to bring it forward where it once was. The Shadow Clinic procedure can match your existing hair colour and density throughout the hairline for a perfect transition. We can create the hair line shape and position you have dreamed about.
Scalp Micropigmentation for Complete or Near Complete Hair Loss:

The Shadow Clinic technique compliments this look by simulating Hair follicles onto the shaved scalp. Basically what you see on the sides (existing hair) we can copy the colour and density and apply to all areas of balding to give the most natural full head of hair look. The Shadow Clinic can restore even a completely bald head to look like a full head of hair.
Scalp Micropigmentation for Alopecia:

Scalp Micropigmentation allows us to help restore self-esteem in many alopecia sufferers. Restoring a full head of hair look is life changing for all levels of Alopecia.
Scalp Micropigmentation for camouflaging scars:

Many of our clients have to come to us with scaring from previous hair transplants. These scars are very noticeable and a lifelong regret leaving you feeling very self-conscious. Our SMP treatment can help with camouflaging these scars and rid you of the worry.
The Treatment Process:
The process of Scalp Micropigmentation normally takes place over 2-3 sessions, each taking approx 3-4 hours with at least one week between sessions. This is to ensure the correct colour , density and hair follicle size is matched perfectly and blending into existing hair seamlessly.
During treatment application we can use a variation of needle groups to copy your natural hair density. Using different penetration depths , needle angles and distribution settings we can replicate each individual hair follicle.
Our specialized pigments used to mimic hair follicles are state of the art premium solutions . The versatility and top performance of these allow us to mix a pigment colour to match your own natural hair colour when at a short or buzzed cut length. Our delivery equipment is the best technology has to offer & produced in Germany, world known for their excellence in Micro Pigmentation modalities for scalp micro pigmentation.
After each treatment there will be some redness to the area. This will subside in approx. 2-4 days. Full after care instructions as well as our Aftercare Crème is provided. Your treatment comes with our Shadow Clinic 1 year guarantee.
Full aftercare guidelines are provided to ensure your new look stays well looked after and maintained for years to come.

CHANGING LIVES
Many of our clients, come to us following years of feeling unattractive, old before their time, depression and suffering low self-esteem. Many have spent thousands on hair transplants, medication, concealers, lotions, supplements or wigs to either hide their hair loss or try and regain/regrow their hair. After years and ongoing costs many remain dissatisfied and regret with the results they achieved. Many men are left with an un-natural appearance, scaring and ongoing maintenance for many years.
We believe our treatment is the most realistic immediate treatment for hair loss. Having a hairline not only gives you a more youthful modern appearance it gives you your confidence back. No more hats , concealers or pills just realistic results that you deserve and expect.
YOUR SECRET IS SAFE!
Although our treatment will not grow or regain your hair , the illusion is so realistic you actually believe you have hair. No-one ever needs to know unless you choose to tell them. We have clients who still haven't told their parents, friends or wives, even many years after post treatment. Some common comments we hear about from prior clients are:
"You're looking great these days. Whatever you're doing , keep doing it!"
"I thought you were bald but you actually have hair!"
"You're looking younger these days!"
Or a popular one is 'no comment!' That's right our treatment can look so natural and flawless no one thinks twice to look again. This proves that our Scalp Micro Pigmentation treatment can be so realistic you cannot tell what's real and what's not.
We offer help and aftercare advice to ensure your transition from no hair line to a new hair line goes unnoticed and seamless. Our treatment is a process carried out over 2-3 treatments so the transition is gradual. With each treatment the colour and density becomes darker.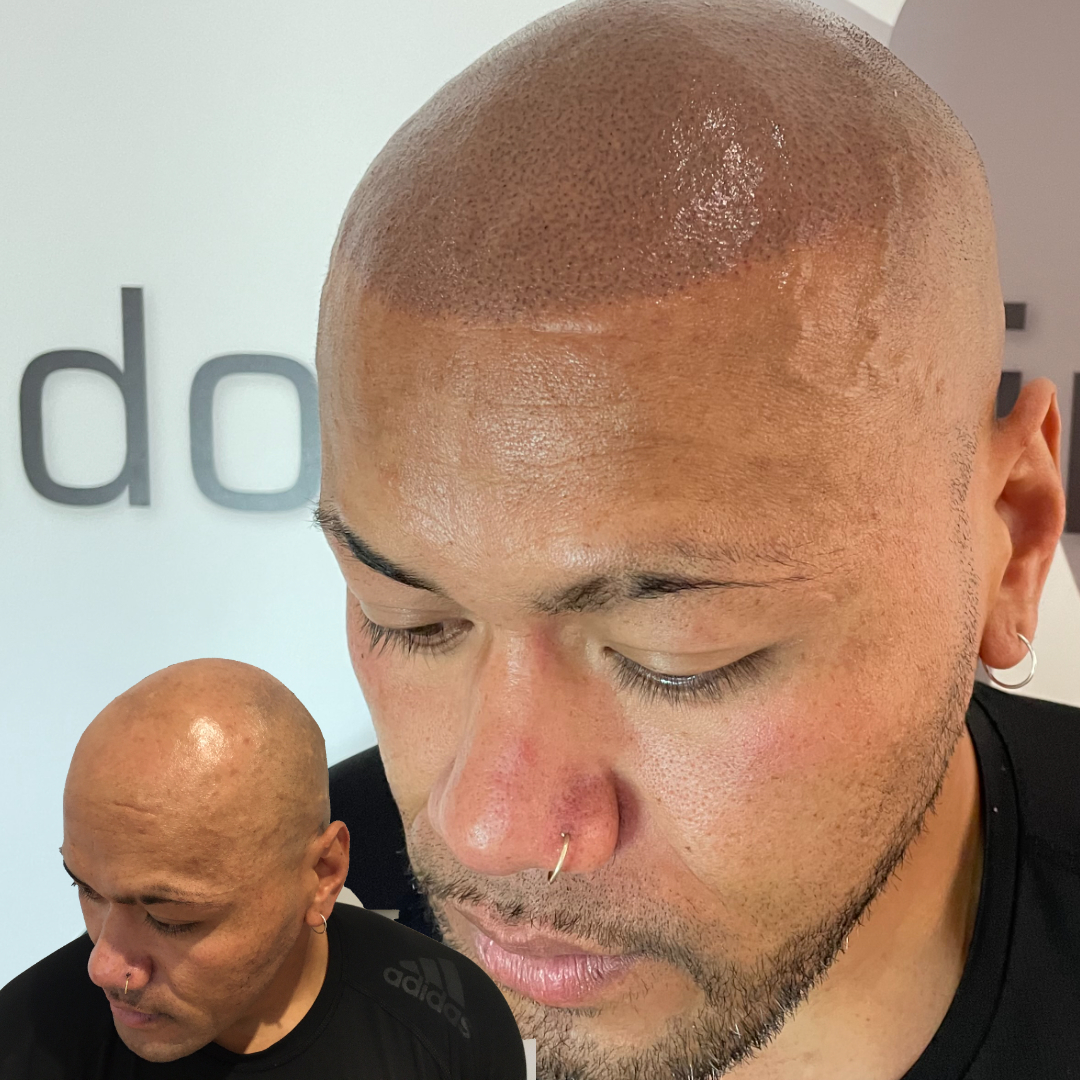 Whatever your circumstances or hair loss stage, our aim and priority is to meet your individual expectations in achieving your desired look. Our Clinics are based in Sydney , Canberra , Christchurch , Dunedin and Auckland. We are perfectionists and very experienced, having received International reviews praising our technique in creating the appearance of a realistic, natural looking hair line. We treat every treatment as a unique artwork. It is passion, skill and experience that produces the best results every time. Restoring confidence and freedom to our clients is life changing and our honor.